Spiritual Hypnosis Assissted Therapy (SHAT) is being extensively and successfully used in clinical practice in Bali for over a decade now and for a variety of mental disorders, emotional distress (specifically grief and bereavement), sexual, relational, and sexual orientation problems, and PTSD. As a new, alternative, and both culturally and spiritually sensitive method of treatment and prevention of mental health problems, Professor Luh Ketut Suryani applied the method for the new high school and junior high school students in Denpasar, Bali. There were thausands students joined the program. Most of them had to cried out loud and scream due to the traumatic memories that they re-experience during the program.
"The approach focuses on memory and the unconscious mind, and considers the effects of proto-experiences on the (dys)functional psychological development of the individual. It utilises spiritual, psychodynamic (in particular clinical hypnosis), CBT, and humanistic therapeutic elements", said Suryani after the program.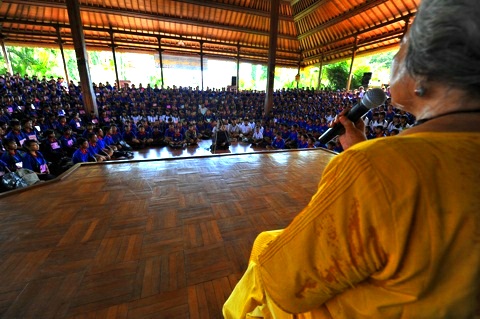 Throughout life one faces many problems. Some people can handle most of them well, while others find it difficult to cope successfully. Experiencing and dealing with problems may make one a stronger individual, or in certain cases may negatively influence thought, behaviour, and emotions and potentially result in mental illness. Although the unconscious mind always tries to resolve these problems, the individual may still be unhappy and out of balance, albeit still psychologically functional. "Problems can have genetic, organic, experiential, psychological, or a combination of these causes", add dr Cokorda Bagus Jaya Lesmana as he study the method for an efective treatment in traumatic memories problems.