Hundreds of local taxi drivers staged a demonstration in June, demanding the closure of the Bluebird taxi company in Bali for allegedly operating on the island without a permit. The tension between Blue Bird and other taxi operators in Bali started early this year when the provincial administration's Transportation, Information and Communication Department sent a letter to the company questioning the legal standing of the Bali taxi operation. The letter, dated Feb. 1, 2010, questioned the use of the Blue Bird brand on taxis operating under permits issued to Praja Bali.
For that reason, Professor Luh Ketut Suryani tried to be the mediator between taxi drivers with Bali's governor. "I try to find the balinese way in handle a problem, not by demonstration or any destructive way, but can we sit together and talk in a peacefull way", said Suryani during the gathering with taxi driver in Governor Office temple.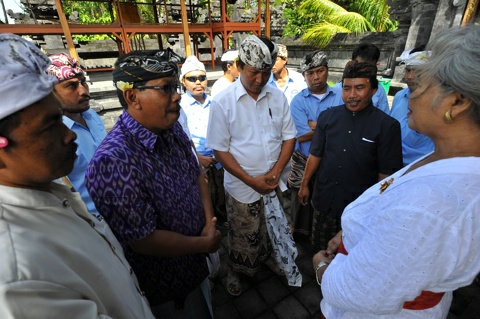 "We will do your way and there will be no more demonstration", said Oka as the leader of the Paguyuban Jasa Wisata Bali during the meeting. The local taxi drivers made a point not to hurt any people. They consider the Blue Bird Taxi drivers just like them-  people who have a hard time feeding their families. Local taxi drivers in Bali are only upset with the company and the lack of action by the government in enforcing the law.