As a leader in the research and clinical development of healthcare products, Otsuka Pharmaceutical Development & Commercialization, Inc. (OPDC) was established in January 2007. OPDC was formed by merging two Otsuka organizations – Otsuka Maryland Research Institute, Inc., and OAPI's Global Development & Commercialization Division – to facilitate the development and subsequent launch of Otsuka's pharmaceutical products on a global basis. Andy Forbes as the Director of Global Medical Affairs, had the chance to meet Professor Luh Ketut Suryani during his short visit in Bali.
"I think what the Professor been doing for the mentally ill people in Bali is something amazing that we can not do in the West", said Andy Forbes during the meeting at Kopi Bali House in Sanur.  He said the program should gain more support from the government and not the other way around despite the fact that Bali Governor cut the support 90 percent from their previous support.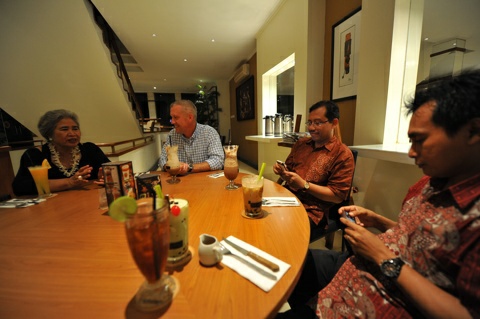 "I will try to find a way to help solve the problem of mentally ill people in Bali as I learned so much from Professor Suryani about the situation", add Andy after the meeting. With business expertise, a devotion to science and a passion for improving the quality of human life, is becoming Otsuka  major contributor to the pharmaceutical industry and setting standards to which others aspire. Surely the visit was just a beginning of an continuing relationship to help the others.