Yayasan Gotong Royong (YGR) provided monthly financial support for more than two years on a row to help mentally ill people in the north part of Bali since 2009. In July 2011 Gotong Royong will take office in Yogyakarta (Java). Because of a 70% rent raise of the premises in Singaraja Bali and because they are needed more in Yogya where more projects take place, they decided to abandon the Bali office.
"It seems to be the time for YGR to leave the Lost Paradise and leave Bali to the Balinese as prosperity, wealth, consumerism, individualism have created deep roots in society and is threathing culture and religion. This is of course not an issue for foreigners to solve or to influence as they brought the problem with them", said Made Kornelis Blok as Chairperson of YGR-Utrecht to Professor Luh Ketut Suryani in the beginning of May. "The gold-rush which has been going on for ages now, to come to a climax as real estate business in booming and incredible amounts of money are pumped around. Also a lot of Balinese nouveau riche are taking big advantages of this developments too. We invite them to spend it on the poor and less fortunate inhabitants of their highly praised cash-cow. In a sense we met with greed and corruption from the beginning (2001) but we always found ways to deal with it and stayed out of the shooting range of ill-willed people. As long as we concentrated on the groups we worked with, we managed to keep our inner focus too. Maybe it's because we got tired, maybe because we found out that a lot of foreigners have 'social activities' to lower the stress they experience in living in Bali (being a walking wallet) and to provide some local acceptance by doing a social project.  The money which is involded is not spend on a proper way, but due to language problems and pressure people keep silent. We came to the conclusion that this is not the environment in which we can operate with a high motivation. And although we are highly satisfied with all the projects we are closely involved with (orphanage, scholarships and senior-support) and we can conclude that they have been for sure quite successful, we decided to pull back gradually", added Made as he pray that the mental health project runs by Suryani Institute will be as successful as ever.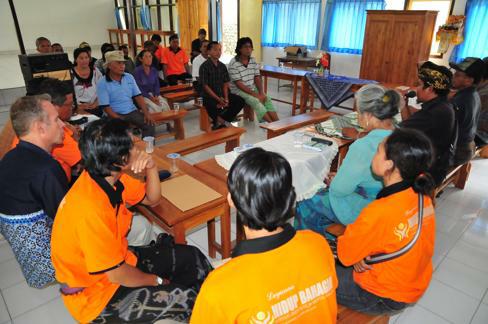 "I hope that in the meantime you found access to other funds as well so the damage done by our decision is a matter of 'small repairs' only and the patients/clients still will receive their medicine and coaching", said Made as he closed the conversation with Professor Suryani. The institute projected that there are more than 9000 people all over Bali were mentally ill left untreated. The Buleleng government itself think that mental health is not their main priority and for this the support is never reach for this project. The center had treated almost half of the patient that they identified with almost all of them can back to their normal social functioning.