In the celebration of the 69th Indonesian Independence Day, all Indonesian people remember and try to feel how the nation's warriors along with the people across the country fought to gain independence from colonial Japan and the Netherlands. They proclaimed freedom and independence of the Nation of Indonesia on August 17, 1945 through Soekarno-Hatta. It was justice, rich, and prosperous. Unfortunately, there are still many who have not felt fair and prosperous. They are chained on the island paradise, Bali on the 69th Indonesia's Independence Day. For those reason an International Photo Exhibition is held in Bali as a "humanitarian issue" in psychological and psychiatric points of view which reduces to become an important point of the economic conditions, public ignorance, and lack of support from the government ass the healing barrier of the mentally ill.
"This event not only emphasizes the beauty of the visual world, and also contains a message of awareness, especially to remind us all of the phenomena in the environment, and about our brothers and sisters who are chained due to his/her psychic disturbances", said Warih Wisatsana from Bentara Budaya Bali as he welcomed the collaboration with Suryani Institute for Mental Health, a concern or awareness of art as worthy as other arts events. The exhibition will open from August 19-24, 2014 at Bentara Budaya Bali.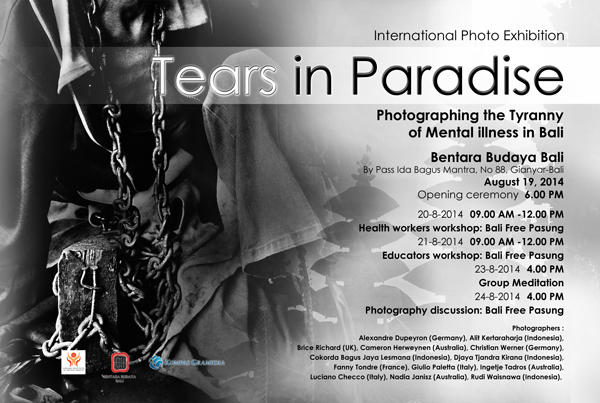 The thirteen photographers are Alexandre Dupeyron (Germany), Alit Kertaraharja (Indonesia), Brice Richard (UK), Cameron Herweynen (Australia), Christian Werner (Germany), Cokorda Bagus Jaya Lesmana (Indonesia), Djaya Tjandra Kirana (Indonesia), Fanny Tondre (France), Giulio Paletta (Italy), Ingetje Tadros (Australia), Luciano Checco (Italy), Nadia Janisz (Australia), and Rudi Waisnawa (Indonesia). The photos presented contain a profound message. The faces may seem isolated, but are full of implied call for caring, and an invitation to share a concern. It is a human touch that reminds us we are a one large whole family of mankind. The photographer, as initiator and implementer of activity at the Suryani Institute for Mental Health was determined to bring the figures stuck as subjects in the event; not merely reference objects or aesthetic inspiration for the photographer.
"I hope the exposure in this international photo exhibition can provide insight and inspiration for those who have family or friends who are experiencing severe mental disorder. They are our families who need a helping hand to free them from the world that he himself does not understand", said Professor Luh Ketut Suryani as the Founder/Director of Suryani Institute for Mental Health.